Catfish Days is back for 2023! It will be held July 7-9. See the details!
July 9, 10, and 11
Trempealeau, WI
2023 Catfish Days Button Winners: 3607, 5681, 1686, 0346, 2423, 4947
Got a winning number? Snap a photo of the button and email it along with your name and address to tremplolions@gmail.com. We'll put your prize in the mail if your button is a verified winner!
July 7, 8, and 9
Trempealeau, WI
The best weekend of the summer starts in
Registration information will be posted as it becomes available.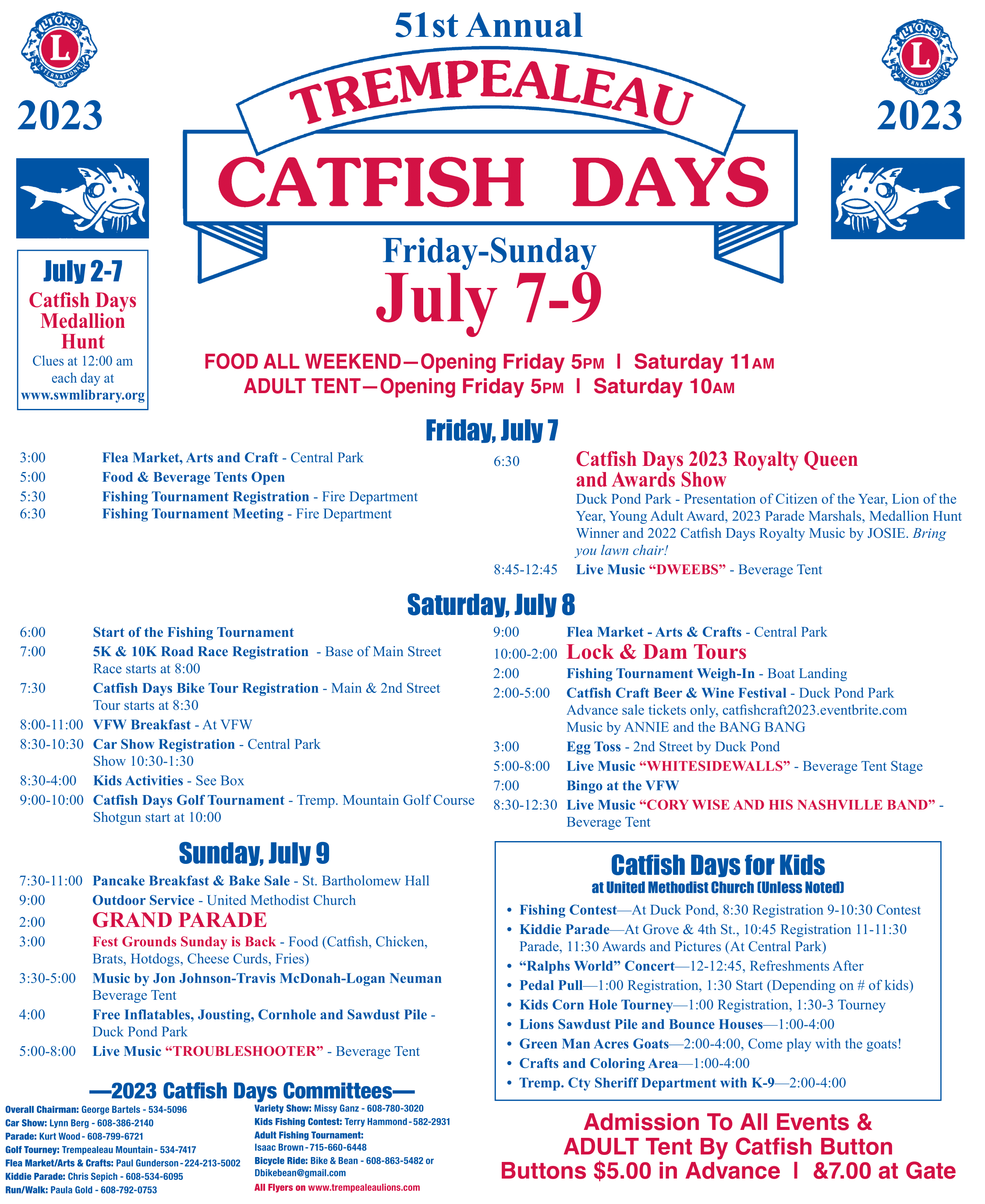 3:00pm — Flea Market-Arts and Craft-Central Park
5:00pm — Food and beverage tents open
6:00pm — Fishing tournament meeting at Fire Dept
6:30pm — Catfish Days Queen and Awards Show at Duck Pond Park / Download Program >>
John Smith performs Trempealeau
Citizen of the Year, Lion of the year, Young adult award, 2021 Parade Marshals, Medallion Hunt winner, and past royalty of Catfish Days
8:45pm-12:45pm — THE DWEEBS
6:00am — Start of fishing tournament | RESULTS
7:00am — 5K and 10K Road race Registration – Base on Main St. — 8:00am Start

7:30am — Catfish Days Bike tour registration—Main and Second St—8:30am Start
8:00am — Yoga -Lawn of the Methodist Church
8:30-10:30 — Car show registration-Central Park-Show-10:30 to 1:30
9:00am — Flea Market-Arts and Crafts — Central Park
9:00-10:30 — Kids fishing tournament-Duck Pond
9:00-10:00 — Catfish Days Golf Tournament  – Shotgun start at 10:00—Trempealeau Mountain Golf Course
10:00—2:00pm— Lock and Dam Tours
10:45am —Kiddie Parade Line up-Methodist church
11:00am — Kiddie Parade
11:30am — Kids Tent – Methodist church lawn– along with kids and family concert by Susan Salidor- Chicago area performer
2:00-5:00pm — CATFISH CRAFT BEER & WINE FEST – advance sale tickets
only —catfishcraft2022.eventbrite.com—-Echo Black River playing
3:00pm — Egg Toss- 2nd St by Duck Pond
5:00-8:00pm —WHITESIDEWALLS—beverage tent
7:00pm — Bingo at VFW
8:30-12:30pm — Live music — LAST CALL — Beverage tent
7:30-11:00am — Pancake Breakfast and Bake Sale – St Bartholomew Hall
2:00pm — GRAND PARADE