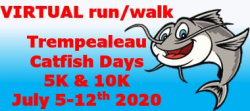 Virtual 5K & 10K Run/Walk
Due to the cancellation of Trempealeau Catfish Days and the spread of COVID-19, the best way to stay safe AND enjoy a day of running is through a virtual run!
How does a virtual run/walk work? Instead of meeting and running the course as a group we encourage you to run as an individual, in your own time & pace at any destination of your choice– yup, even on your trusty treadmill!
Can I run on the traditional racecourse? You bet! The magnificent, scenic route which takes runners along the mighty Mississippi and into beautiful Perrot Park, will be marked for both the 5k and 10K by the start of the Virtual Race. Of course, we request that you respect the state and local guidelines/safety procedures regarding COVID-19 and group gatherings: run safely, run respectfully, social distance where appropriate. Run the actual route? Let us know! Time yourself? Let us know!
Where do I submit my time? We will be encouraging those who wish to submit times to do so. All times can be submitted for the leader-board right here at runsignup.com. We are not requiring anyone to submit their times and we will not issue awards this year.
When can I participate? Complete your 5K or 10K run/walk anytime between July 5th -12th. Posting? We'd love to see it! Share your run on social media using #Catfish5k10k 🙂
Virtual registrants will receive: the 2020 Catfish Days Commemorative t-shirt, and Catfish Days button – while supplies last! (eligible for prizes).