Farmer's Bundle Pickup
Support local farmers by purchasing a bundle brought to you by the Trempealeau Lions! $20 for various cheeses, butter, and eggs.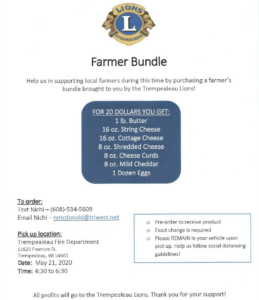 Date
May 21 2020
Expired!
Location
Trempealeau Fire Department

11620 Fremont St, Trempealeau, WI 54661
WHEAP Energy Assistance

The Wisconsin Home Energy Assistance Program (WHEAP) provides eligible households with assistance for heating costs, electric costs, and energy crisis situations.
To apply for the waitlist, click here.
For emergency energy crisis assistance (no heat), click here.
Questions? Call 715-985-2391